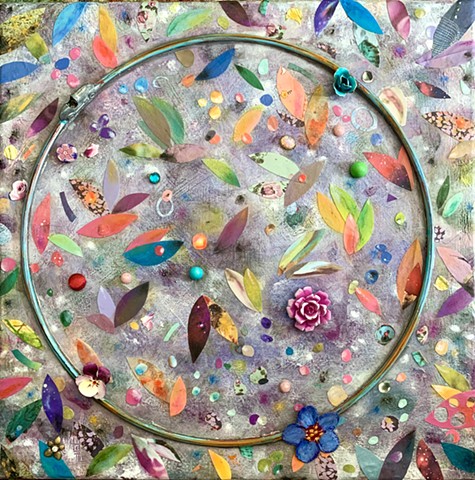 Waiting for the Race to Begin
acrylic, paper, pastel, synthetic stones and cabochons, ceramic and celluloid flowers, vintage 1960s metal formula 1 race car, metal hoop, fabric, and rhinestones on canvas
12 x 12"
2021
Experimenting with mixed media has always been a favorite pastime. So has collecting little trinkets from days gone by. Waiting for the Race was inspired by a 1963 Parker Brothers board game called Formula 1. I had the game and it was pretty well trashed so I saved the metal race cars and I am finally, after decades, using them in art projects. I have also incorporated celluloid and porcelain flowers, various cabochons and beads, hand-cut paper leaves, and a few other surprises. The race track is a metal floral ring, treated and painted to look rusty and worn.
This was created using archival materials. A certificate of authenticity will be included in the purchase of this painting.
Price includes insured shipping in the USA-I have included a flat rate in this listing. If you reside outside of the US please contact me so I can include your discounted shipping rate (I will deduct $15 from your overseas shipping cost but you will be responsible for any VAT or other taxes). All overseas items will be shipped via registered mail and you will have to sign for the item.
#Pavement #RepresentationalAbstract #leaves #Asphalt #Oregon #Nature #Stones #ceramic#Flowers #racecar #Opal #formula1#rose #racetrack#racing #OriginalArt #MixedMedia #Collage #CollageArt #Painting#OregonArt #PacificNorthwest #designinspiration #interiordesignideas #visualart #ContemporaryArt #womeninbusiness